SEE Compodata: references
SEE Compodata can plum itself of significant references, often operational for several years, among which:
Technetics Group
A coming together of the world's top-performing businesses

Through the combination of seven of the world's best-known sealing and critical component design and manufacture
businesses comes Technetics Group. The businesses that make up what is now known as Technetics Group are:
Helicoflex, Garlock France, Tara Technologies, Technetics, Wide Range Elastomers, Plastomer Technologie, Hydrodyne and Fabrico.

Please visit Technetics Group dedicated website.
Leroy-Somer Motors
Leroy-Somer, a subsidiary of the US Emerson Group, is one of the world's leaders in the area of drive systems and energy production.
Leroy-Somer has been a CompoData customer sinc end 1999, and the configurator has been operational since mid-2000.
To-date in version 5, the configurator covers nearly 450 motors and gears catalogues, which are configurable products with astronomical option combinations.
800 technico-commercial proposals are daily issued from the configurator, which is now the heart of a dematerialization of the sales process currently on the run.
The configurator is accessible in 13 languages (among which chineese), on the Intranet, by the 450 worldwide sales points, and on the Internet in public controled access (over 10,000 different prospects have already been connected) : it generates, on-line, a complete data-sheet including a dimensionning drawing assembled on the fly, as well as CAD representations, in 2D and 3D.
It is connected to the JD.Edwards ERP for order management.

Please visit Leroy-Somer Motors dedicated website.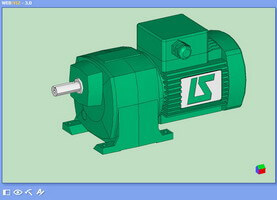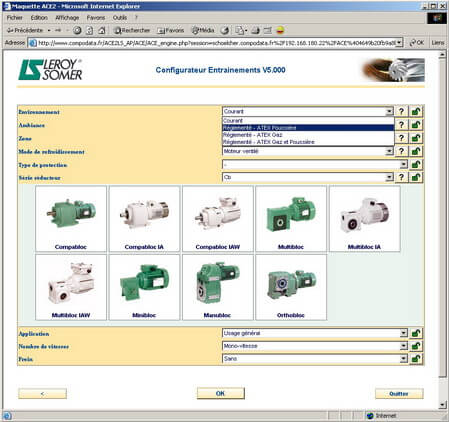 EATON
Eaton's electrical business is a global leader in power distribution, power quality, control and automation, and monitoring products and services. Eaton's global electrical product series, including Cutler-Hammer®, Moeller®, Powerware®, Holec®, MEM®, and Santak® provide customer-driven solutions to serve the power system needs of the data center, industrial, institutional, public sector, utility, commercial, residential, IT, mission critical, alternative energy and and OEM markets worldwide.

Please visit Eaton dedicated website.
Guerin Systems
Guerin Systems,member of the Tetra Pak group
Tetra Pak is the world's leading food processing and packaging solutions company. Working closely with our customers and suppliers, we provide safe, innovative and environmentally sound products that each day meet the needs of hundreds of millions of people around the world. With over 20,000 employees and operations in more than 150 countries.

Please visit Guerin Systems dedicated website.
Garlock
Garlock® – An EnPro Industries family of companies
The Garlock family of companies is acknowledged as the global leader in high-performance fluid sealing and pipeline protection products for industry and infrastructure. Garlock products are at work in many specialty industries, including chemical and petrochemical, refining, pulp and paper, water and wastewater treatment and drainage, power generation, primary metals, food and pharmaceuticals, infrastructure, mining and others. We serve as an OEM provider and as a supplier to engineering and construction contractors.

Please visit Garlock dedicated website.
Prud'homme Transmissions
Prud'homme Transmissions has been a French market leader in the area of mechanical transmission components for over 50 years.

Prud'homme has been a CompoData customer since 2000.
The e-catalogue contains in the order of 800 products families, and intelligently manages links between complimentary products (e.g. : chains <> pinions) ; it is interfaced with a Flash version of the conventional paper catalogue in which the user can turn over pages, with an automatic switch from page to pertaining Family inside the Configurator, both ways.
It provides the user with a detailed data-sheet, generated on the fly, and also a 2D CAD representation.
It is connected with the Prud'homme internal ERP...

Please visit Prud'homme Transmissions dedicated website.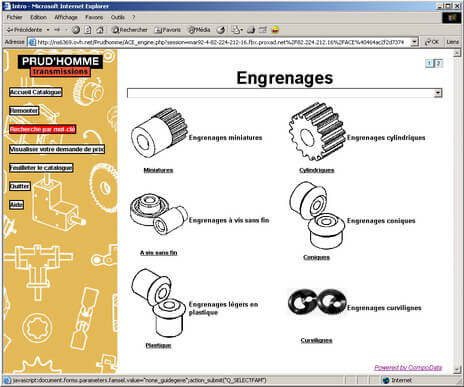 SNECMA
SNECMA (now called Safran) is a company "dedicated to aerospace propulsion, which designs, develops, and manufactures Motors ".

SNECMA has been a CompoData customer since 1999.
SNECMA uses CompoData to manage standard parts which are used in planes or rocket motors.
The system manages links between complimentary components (e.g. : screw <> nut) ; it connected with CATIA CAD System to which it provides geometric instanciation directives to parameterized models.
The system is only accessible from SNECMA Intranet.
Please visit SNECMA dedicated website.
BENALU
Pioneer since its inception in 1967, BENALU is a leading manufacturer of aluminium vehicles.
Thanks to the experience and professionalism of more than 300 employees, BENALU offers its customers more and more innovative vehicles with an optimized payload.
Lightness, strength and stability are the best features of their products.

Please visit BENALU dedicated website.
BENNES MAREL
Part of the MARREL company, created in 1919, BENNES MARREL groups several activities spread on the premises of Andrézieux-Bouthéon [42] and Mont-de-Marsan [40].
Spécialist in the creation of steel bins for carriers and trucks, it is thanks to the experience of the hundred of employees that BENNES MARREL offers a large range of innovative products to its customers.

Please visit BENNES MARREL dedicated website.