SEE Electrical Basic
SEE Electrical Basic: a cost-effective, entry-level wiring diagram software package

SEE Electrical - Basic is the ideal entry-level electrical wiring diagram software for all industries. Its numerous functions and attractive price make it an easily accessible choice for smaller businesses involved in any aspect of electrical engineering.
SEE Electrical offers real-time and automatic functions, which incorporate proven technologies well suited to managing electrica project information and multiple lists.


New: In order to fit all budgets, SEE Electrical Basic is now available in a 25 sheet per project version called "Basic25". This package can be purchased online (see "> Basic25"). If you need more information, please contact our sales team or This email address is being protected from spambots. You need JavaScript enabled to view it..


User friendly and intuitive interface
♦ As a modern Windows application, SEE Electrical readily fits into all existing Windows environments.
♦ All functions and commands in SEE Electrical are easy to use and designed specifically for electrical engineering and its intuitive interface means that users can be productive very quickly, with minimal need for training. First electrical projects can be created in minutes!

♦ As with most true Windows applications, SEE Electrical users can easily personalise their working environment.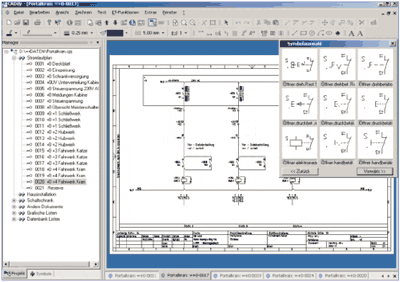 Many powerful functions are available in the Basic package


♦ User-friendly electrical wiring diagram functions adapted to the needs of circuit diagram generation facilitate schematic entry. The rubber-band function for example, allows the moving of components horizontally or vertically, with wires remaining connected.
A customisable electrical wiring diagram software
♦ An extensive array of symbols are readily locatable in the various available databases. In addition, custom symbols can be created should the user require something that is non-standard.
♦ Various standard and customisable component tagging options save time and reduce errors. All project specific settings are stored within the project data and are easily adjusted to the user's requirements.
♦ Graphical pages including parts lists, wire lists and terminal lists, can be rapidly and professionally produced.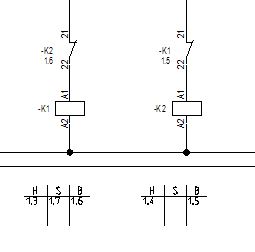 Cross-references on signals, contacts and relays coils are generated automatically
♦ A diverse range of page templates is included, and the user can easily create their own if required.
♦ Several electrical projects can be worked on simultaneously, allowing the user to copy existing parts or full sheets from one project to another.
A professional electrical wiring diagram software package
♦ With the integrated Microsoft ActiveX® interface, documents from other Windows applications (including Microsoft Word®, Microsoft Excel®) can be embedded into the project structure.
♦ The ability to import and export in DWG,DXF,DXB and Enhanced Metafile Format facilitates the exchange of drawings with third parties. A SEE Electrical Viewer is also available and freely distributable allowing projects to be conveniently viewed and printed.
♦ For professional looking documentation, pixel images such as BMP, JPEG and PCX files can be inserted into the title block of an electrical diagram.
♦ Real-time and automatic functions constantly verify project data, saving the user valuable time.
♦ Labels for terminals, wires and components can be produced by exporting in various supported printer formats, including Weidmüller and many others.
Any question or comment? Please contact us